This Electric Kettle is built for speed. It quietly boils water in minutes. The variable temperature control allows you to select the exact temperature you desire to help you achieve optimal results.
1,7 L capacity
Digital display with 6 temperature settings from 50°c to 100°c
Smart temperature sensor
Hold temperature function
Discover the new KitchenAid 1.7 L Kettle which capacity can boil large quantities of water in just a few seconds! Adjust the temperature of your choice from 50 to 100°C thanks to its digital display and check the water temperature on the screen even when the kettle is off its base. The stainless steel wall will also allow you to keep your water maintained to the desired temperature for up to 30 minutes when the kettle is left on its base. With its nice design and numerous features, the KitchenAid Kettle will be your best partner for tea time.
5KEK1722BER - 859791015010
1.7 L Capacity
With the option to heat a minimum of 250ml of water.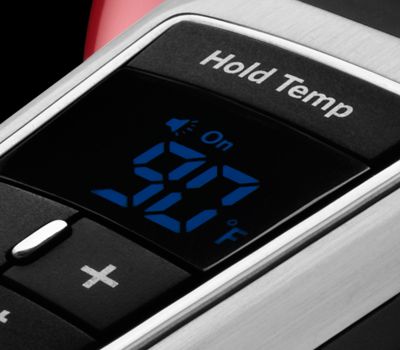 Variable Temperature Settings
Variable temperature settings adjust from 122° F to 212° F

30 Minute Hold Temp Function
maintains the temperature while on the base

Lid Release Button
to easily fill the kettle with water

Soft Grip Handle
Designed for maximum comfort and performance
More Information
SKU
5KEK1722
Technical Specifactions

Fast boiling: yes
Kettle capacity: 1,7 L
Body material: Stainless steel with paint layer
Interior material: Single wall stainless steel
Boiling element: yes
Temperature range: 50-100 C
Back-lit water window: yes
Removable limescale filter: yes
Cordless operation with 360° base: yes
Wattage (W): 3000 W
Voltage (V): 220 - 240
Frequency (Hz): 50/60
Height of the product: 257
Width of the product: 218
Depth of the product: 150
Net weight (kg): 1,2

Brand
KitchenAid